You Don't Have to Take Our Word for It!

Here's what some of our satisfied customers have to say about Acme Spring Automotive: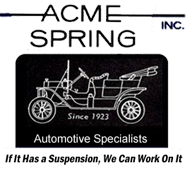 08/17/2023
Family businesses are always packed with friendly service....thanks guys I'll be back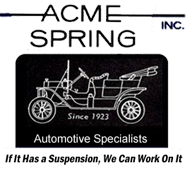 07/09/2023
Always stellar work. Multiple alignments and always a good experience.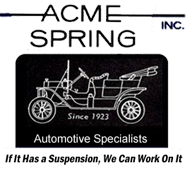 Alignment
05/18/2023
They did a great alignment on my truck.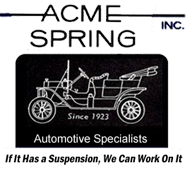 05/03/2023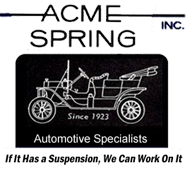 04/26/2023
Great service. Fast friendly and knowledgeable. Thank you!
Only place I take my alignments.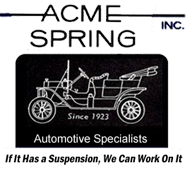 04/11/2023
I needed some u-bolts for my truck. They made exactly what I wanted, while I waited and for a very reasonable price. They are now my go to shop.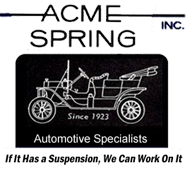 03/16/2023
I can not say enough greatness about how good these men are. This shop has great spirited men who make you feel like family when you walk in. They do excellent work and at an affordable price compared to a few other store chains or dealerships out there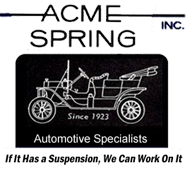 02/24/2023
We have been talking our work trucks here for years and they have always been pleasant and easy to deal with.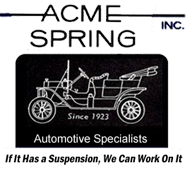 01/11/2023
They do a great job on ur car
Awesome place if you need alignment.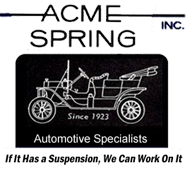 10/25/2022
Acme Springs is the best around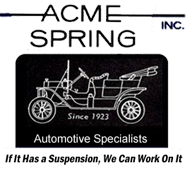 10/06/2022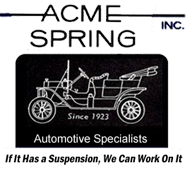 09/09/2022
I like the old school atmosphere. Wasn't talking anything over the top or trying to get over my most shops. Good honest management and good crew to do maintenance on your vehicle. Highly recommend to bring vehicle for service before any other shop hands down.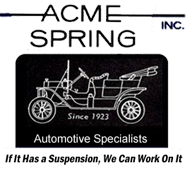 08/23/2022
Thanks guys for your hard work on our 2500 Chevy 4x4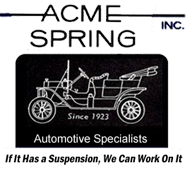 08/12/2022
Great service. They were quick and great pricing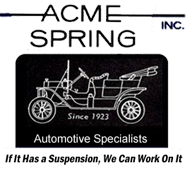 08/02/2022
They made the spring clamps that I couldn't find anywhere else. In and out in less than 30 minutes.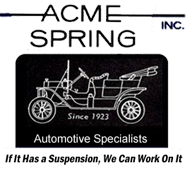 06/21/2022
As always very helpful and fast services.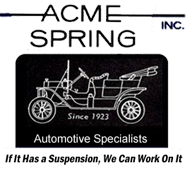 05/27/2022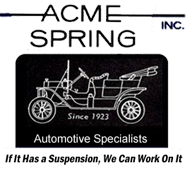 Undercar Services
05/07/2022
Good honest people. They added load leveling springs and a new leaf to my truck and it now sits level when adding tons of weight. No more sag! I'm very happy.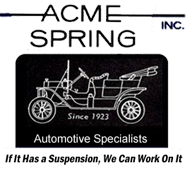 05/02/2022
Had parts I couldn't find anywhere else.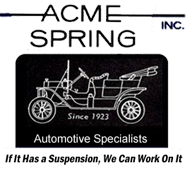 03/23/2022
All the lift you'll ever need, install new springs.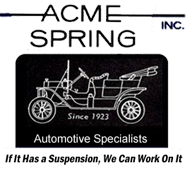 02/23/2022
They can get the job done. Good prices and very helpful. Stop in, they would be very happy to help you with what ever you need.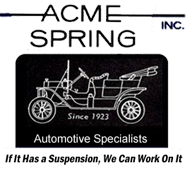 01/17/2022
Went to 8 different places for U-bolts only to find (made in China) junk until I walked into Acme Spring. Had exactly what I needed.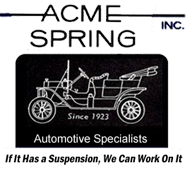 01/06/2022
They got our big truck aligned and in great driving order in a day! Highly recommended and appreciate them!!!!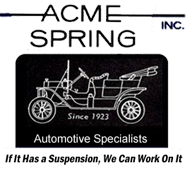 12/02/2021
Great bunch of guys and do great work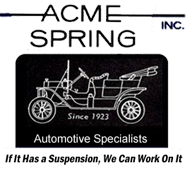 11/16/2021
Top notch service and repairs everytime..thanks again paul!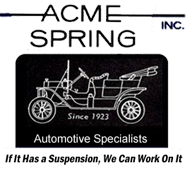 10/18/2021
Needed u bolts that the trailer store didn't carry. Not long enough. Acme had the correct length u bolts. Was in and out for a good price.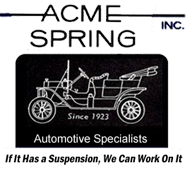 11/12/2015
Great company to do business with. They have added leaf springs to more of our trucks than I can count. Work is first class and the people there are great to deal with. Highly recommended.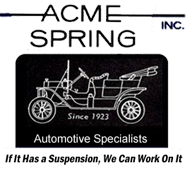 06/03/2017
Fair place, they know their stuff, and are timely in getting it done.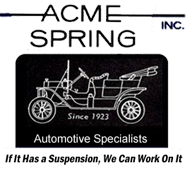 01/21/2018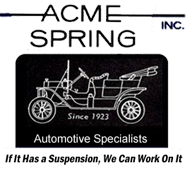 03/29/2018
Just ask for John in service, he will see you straight.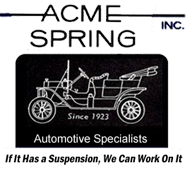 04/18/2018
Good service at a fair price on my RV front end.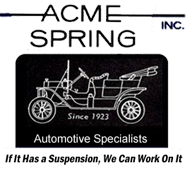 06/03/2018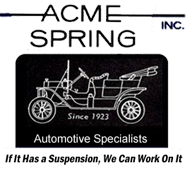 06/09/2018
Very friendly and they do good work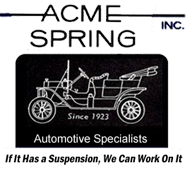 06/21/2018
Awesome job great place to get work done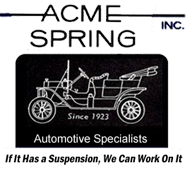 11/25/2018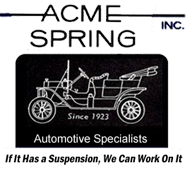 06/11/2019
Great work., needed kingpin repair work. They are the best.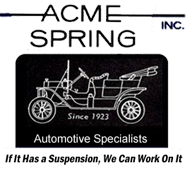 08/15/2019
Great work, ask for John in service he is a very experienced.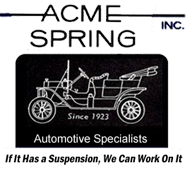 09/03/2019
Best underbody shop in Dayton, ask for John in service he is very informative and very professional, I had a knocking noise from a front wheel, John got his technician to look at it, he seen it was a oem counter balance a heavy knob of hard plastic that was tore and ready to fall off, they took it off as it wasn't really needed and no charge.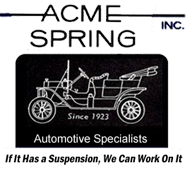 09/13/2019
I am here for my truck Alignment so far so good. They have a driver's waiting Room with a tv and Free coffee.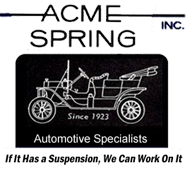 10/31/2019
John in service is very professional and their work is exceptional. Best shop in the Miami Vally by far.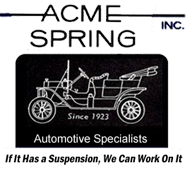 12/10/2019
Have used them for over 20 years. Good workmanship and fair pricing.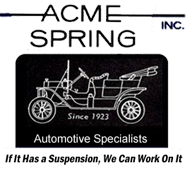 12/19/2019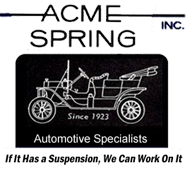 02/05/2020
Good price .great service. Great job . They will keep getting our business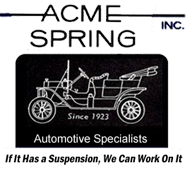 02/06/2020
Good people fast repairs very reasonable prices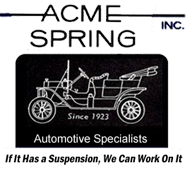 02/08/2020
The are amazing at there job and very friendly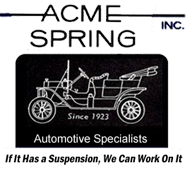 08/17/2020
Friendly, professional and reasonable. I've been bringing my car here for years, after a coworker recommend them.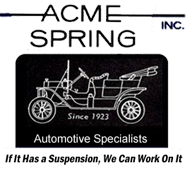 09/01/2020
Always honest and do a great job. If they can't do it they'll refer you to someone they trust.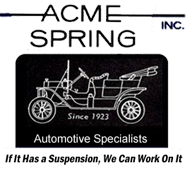 09/05/2020
Been taking care of our vehicles for years! Very knowledgeable, helpful, and reasonable.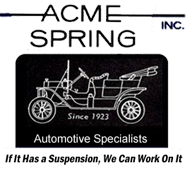 11/10/2020
Good service, affordable prices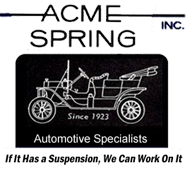 11/11/2020
Paul and Brandon ALWAYS take very good care of my car! I trust these guys and I don't ever feel like they are trying to get over on me. I always refer when I can!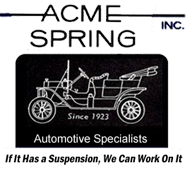 11/12/2020
they got me back on the road straight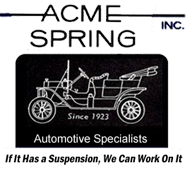 11/12/2020
Excellent service, good prices....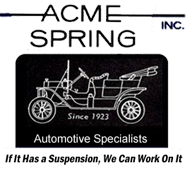 12/04/2020
Great, very professional and quick.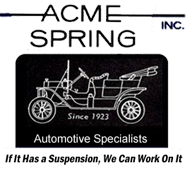 12/15/2020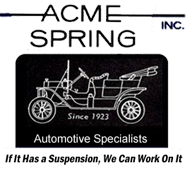 12/29/2020
Best customer service. Worked me in due car not being safe. I recommend this place to EVERYONE.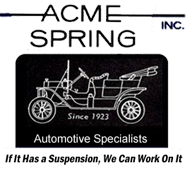 01/15/2021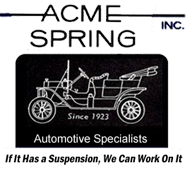 02/28/2021
Cost a little more than other places to get work done but they do a great job services incredible quality of work is outstanding just be prepared to spend a little bit more money but it's worth it

THE MAD VAPOR Biohazard Vaping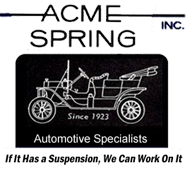 03/01/2021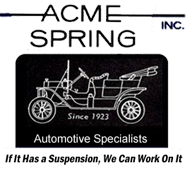 03/21/2021
Good service for automotive done right and honest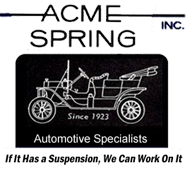 03/25/2021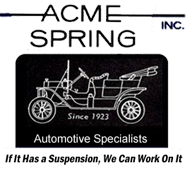 04/13/2021
After taking my van to 3 places I finally was able to get the Ford E350 an allignment. I'll just go here from now on.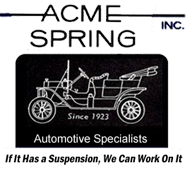 04/22/2021
Best in the suspension and spring business.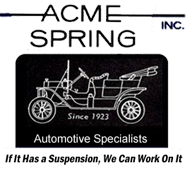 05/16/2021
Great place. Great people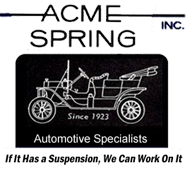 05/29/2021
Dealt with a gentleman named Chris Preston. Very profession and did amazing work.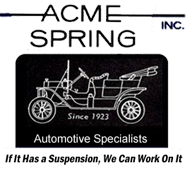 06/13/2021
Great place! Friendly guys!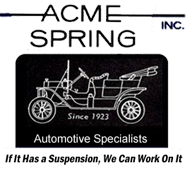 06/20/2021
Good service, thank you guys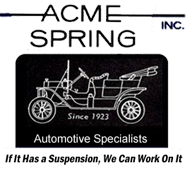 06/25/2021
The best, most professional and affordable repair facility for big trucks or automotive spring-jobs anywhere ... They do other work too, so you just have to call ahead to find out then make an appointment. You will be very satisfied.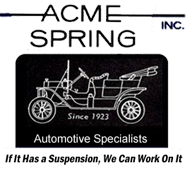 06/28/2021
They had everything I needed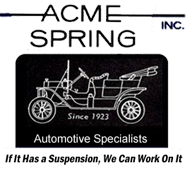 07/07/2021
Friends told me about Acme Springs I will tell more people's about Acme Springs